Creating a Legacy of Hope
For Mary Kay Independent Senior Sales Director Janice Govin, an Ambassador for The Mary Kay Foundation, using her compassion, talents and energies to assist women overcome hardships has long been a priority she says the Lord placed on her heart. When a friend and area Independent Beauty Consultant was killed, she turned her outrage into opportunities to help even more.
Helping women of all ages is my life's passion. I am especially called to mentor single mothers, particularly those going through a hard time. I grew up in a single-parent family, and our lives had been touched by abuse. My history helps me understand difficult situations other women face and empathize with them. The Lord is a huge part of my life. He is the one who placed the desire and the compassion in my heart for women. He is the one who brings me opportunities to aid others. Often, when I am out in the community, women confide in me and reach out for assistance. The epidemic of domestic abuse that continues around our world is intolerable. I've personally experienced its devastating and lasting impact―it has changed me and strengthened my resolve to improve women's lives.
On Aug. 30, 2013, my dear friend and colleague Independent Beauty Consultant Debra Jones was violently killed in her home. Her son-in-law was recently convicted of her murder. Deb had such a huge heart and took care of others in so many ways. She had been instrumental in organizing many of our events in the Fort Wayne, Ind., area. With our hearts filled with grief at her funeral service, Independent Senior Sales Director Laura Poling and I decided to hold a tribute for her.
In November 2013, in Deb's honor, we hosted an evening for women to join together, increase awareness about domestic abuse and raise funds for The Mary Kay Foundation. A legacy is what we leave behind when we die. We called the event "Legacy Lives" because Mary Kay Ash left an enormous legacy impacting women's lives around the world. Deb Jones left an immense legacy as well. Featured speaker Nancy Thomason, Foundation and Executive Project Specialist and Board of Directors member for The Mary Kay Foundation, shared information about The Foundation's work to end domestic abuse.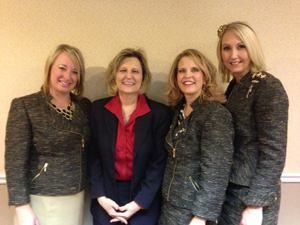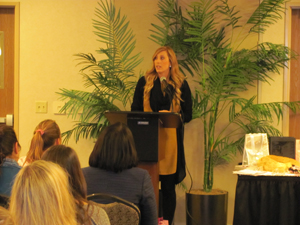 During our 2014 "Legacy Lives/Holiday Extravaganza" event, Arika App, director of community programs at the Northeast Indiana YWCA, discussed how to walk alongside and support someone who is experiencing domestic violence. She enlightened attendees about community resources available for victims and survivors. Activities also included prize drawings as a Foundation fundraiser, giveaways and complimentary Mary Kay® Don't Look Away purse mirrors.
Our passion and purpose have continued, and this has become an annual event for the Fort Wayne area independent sales force. Our next "Legacy Lives/Holiday Extravaganza" delivered messages about healthy relationships, the signs of domestic violence and how to get help. Cancer survivors discussed their personal stories. We gave information on what The Foundation is doing and held a fundraiser to support its mission.
We have been fortunate to collaborate with the Northeast Indiana YWCA, a 2015 recipient of a $20,000 grant from The Mary Kay Foundation. The grant helped offer crisis shelter services to adults and children fleeing dangerous domestic violence situations. Distributing the YWCA's Safety Cards in the community has given me an opportunity to educate people about their services.
Part of my personal mission also is to help girls and young women―early on―know they are valuable. I'm a big advocate for the loveisrespect "text for help" services sponsored by Mary Kay Inc. My daughter is in college, and this emphasizes for me the importance of teaching young people to not settle for unhealthy relationships.
So many women are in situations they don't know how to get out of. If I can be an instrument to help in any way, I take that on. It's a blessing to be able to minister in my community in an unrestricted way. I pray for those I help and ask for guidance on what to say. I hope it is comforting for women facing hardship to know that someone cares. The things we do to be women of excellence with servant hearts, living out the mission God has for us, is what building a legacy is all about.