Helping Others After Abuse
Mary Kay Independent Senior Sales Director Kimberley Victor knows the devastating impact domestic violence has on women and children. She lived it – twice. Now, she uses her passion and determination to help end it.
I married when I was only 20. My first husband and I had a daughter. Initially, he abused me mentally and emotionally. Then he became physically abusive, breaking my nose and bruising my ribs. When I took myself to the hospital to get treatment for those injuries, he kidnapped my daughter and left the city. I went to stay with my brother, and law enforcement brought my daughter back to me.
That was my first encounter with any sort of domestic abuse. I did not even know there was a name for what I was experiencing. I had no knowledge or experience of how to handle the situation. Being adopted and then having my mom pass away when I was 10, I felt like I had nobody close to go to for nurturing guidance. My father advised me to go back to my husband and try again. I tried, but the abuse continued. We divorced after 11 months of marriage.
Two years later, I began a new relationship. He punched me for the first time while his mother was visiting to help us with our newborn son. She observed this, but acted like it was normal and made no comment. Despite ongoing physical abuse, I married again, thinking things would improve. Instead, the abuse escalated. Even though my then-husband treated me horribly, I hid it and protected him like I had done with my first husband. Nobody knew the abuse was happening. Again, I felt alone and without any support system to turn toward.
I ran a day care business in my home at that time and needed a safe environment for the children. As the abuse continued, I secured a restraining order against my second husband, and he was forced to move out of our home. I was terrified he would try to break in. Every night, I slept on the floor with a weapon nearby—a bat or a hammer. Fortunately, I got support and advice from our county domestic abuse agency on what to do.
One night, he tried to break in. I called police, and they caught him. With continued support from my county domestic abuse agency, I again divorced an abusive man. Their caring counsel helped me start anew. It was hard to find out who I was while living continuously within walls of terrifying fear. Even though I was resourceful, I did not have a strong image of myself then.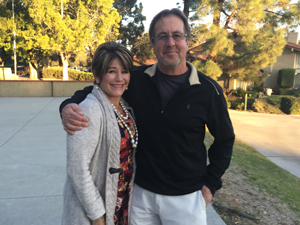 Domestic Abuse Survivor Emphasizes: Make the Call—Get Help!
Fast forward to 2016: I've had my Mary Kay business for 22 years. My Mary Kay family has enriched me and loved me. I'm proud to be an Ambassador for The Mary Kay Foundation, and I'm deeply committed to support its mission. For the past 17 years, I've been in a joy-filled marriage. My husband understands I've been through a lot. He treats me like a queen and always stands by my side. My message to women and men is that domestic abuse is unacceptable. If you are being hurt – emotionally, mentally, physically and/or verbally – seek help immediately. There are people and resources that can help you. I have been there. Reaching out to my county domestic violence services made all the difference for me! I believe God is directing my path to help end this devastating epidemic. We must all join together to help people facing abuse and encourage them to seek assistance.